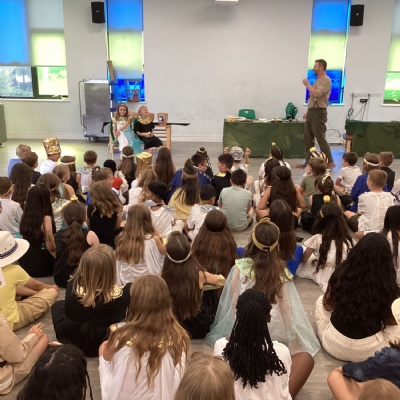 What a fantastic day! The children have been so lucky to have a full Egyptian experience day today with archaeologist and explorer Stuart. They began the day with some exciting acting and learning in the hall that involved children becoming Gods, Goddesses, pharaohs and mummies!

The children then completed four different activities across the different lower key stage 2 classes. These included the riddles of the sphinx, hieroglyphics, an Egyptian quiz and a board game inspired by one that was found in Tutankhamun's tomb.
In the afternoon, the children had a super experience discovering different games of the Nile River as well as hearing some Egyptian stories. They then explored the gruesome process of mummification! It was interesting to find out about how mummification started, which was initially a complete accident in the desert.
A big well done also needs to go to the children's amazing adults who helped to create the wonderful costumes that the children wore today. Thank you!