We are very proud of the Tudor Breakfast Club. It was created to help meet the needs of parents and families and it continues to get fabulous feedback. In fact, we firmly believe that it is the breakfast club around.
Here are some views of the most important 'customers', the children:
'I like the sport and burning energy in the hall, also there is a good selection of food available' - Jennifer
I like how the food is good for us and yet still yummy. All my friends are here, and we 'play dodge ball and badminton in the hall'- Eadie
'I like how the adults are really nice and play with us'- Rosa
'I love the food'-Sienna
'I like the games Jenga and lego. I also like the colouring and craft activities'- Grace
'I just like everything about the club!'- Bobby
The breakfast club is open to all ages from nursery to Y6 and it is open EVERY morning from 7.45am to 8.45am. During the hour it is open, children are able to choose a range of tasty foods from the breakfast buffet. There are a number of activities and these include:
Daily sport, Access to TudorTowers, Modelling Monday, Smoothie Tuesday, Craft, Art, Games and more!
We have a specialist team, who are always on hand to meet the needs of your children. They are always looking for ways to improve and refine what is on offer.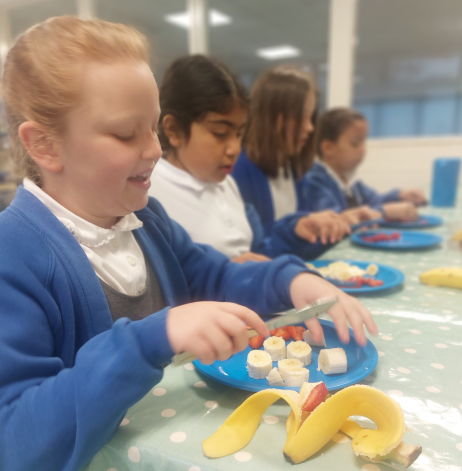 One of our original aims is that the club will remain affordable for all. As well as being the best breakfast provision around, the fact that the prices are very low mean that it is extremely good value. The prices are shown below:
Daily price per child- £4
Daily price for siblings - £3
Daily price for children in receipt of PPG - £2
You will automatically be allocated the best price that you are eligible for when you book.
Sessions can be booked and payments can be made via Arbor. We do not ask that you stick to a particular pattern, or book termly in advance - you can pick and choose your days via the app. Ideal for shift workers, or those with varying work timings and locations! Please do just ensure that you have booked your session and paid for this in advance. Bookings cannot be made if you have not topped up your balance in advance.
If your child is due to attend breakfast club, and they are unable to attend (due to illness or any other reason) we do ask that you inform the breakfast club team via text on: 07541 552034. Sessions cancelled by 7.30am on the day will be cancelled and refunded; if you do not notify us, or it is after this time then a refund cannot be applied.
As a school that aims to work closely with all our families, do feel confident to come and see the school office team if you require any additional support in order for your child to become part of our fun and friendly breakfast club.