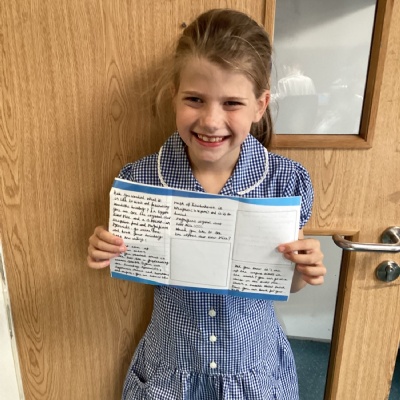 Year three have been writing leaflets and will be recording an advert to persuade adults to book a holiday to Egypt. Have a read at some of the children's paragraphs below.
Have you been dreaming of a holiday where the Sun shines bright in the clouds go to hide? In Egypt, you will discover the crystal clear now, the sandy warm valley of the kings and the towering giant pyramids. So go now and book your holiday and pack your bags. You'll never regret it!
Amazing artefacts
Have you ever wondered what it's like to stand on the top of the breathtaking, mythical sphinx? You could even see Egyptian ruins of temples, and find some ruins of pharaoh palaces as well as pyramids.
Epic Egypt
Some people think that Egypt is a hot, dry stay, but no. You are wrong! There you can find the natural Nile splashing on your feet as you walk to an authentic stunning hotel.
Write down the Nile in style
There is no doubt that the River Nile is the longest river in epic Egypt. If you take a boat down the River Nile, make sure you keep an eye out for fantastic, hippos, amazing crocodiles and colourful birds. You will be amazed by the beautiful, clear views.