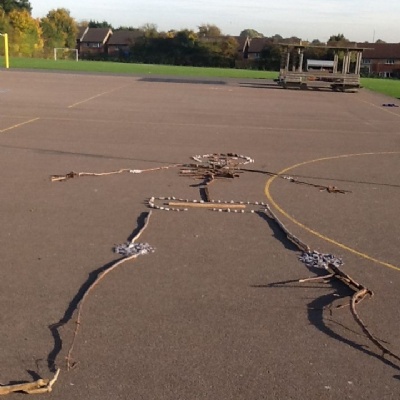 We hope you have all had a lovely half term and are enjoying having the children back after a well desserved break.
The children have had a lovely first week back, starting the week with their giant skeleton for Halloween! Having read the funny bones book and learnt about the bones in our bodies, we decided a huge skeleton on the playground would be a great addition to the FOT fright night :)
We have also been getting creative with sticks in other ways! We started the week learning all about Stick Man by Julia Donaldson and answering questions about the story. We then read the book Not a Stick by Antoinette Portis. The children have come up with some wonderful and creative ideas for what their sticks could be including a piano, a telephone and even a scooter!
We ended the week with some work on symmetry and have created a beautiful butterfly gallery in class along with some wonderful butterfuly artwork on the playground!
Next week, we will be finding out even more about ourselves and each other. Could we please ask if parents/carers could provide their children with a photo of their child when they were a baby. We will be looking at how the children have changed since they were much smaller and how they have grown.
Thank you for your continued support!
Mrs AM, Miss North and Mrs Wash