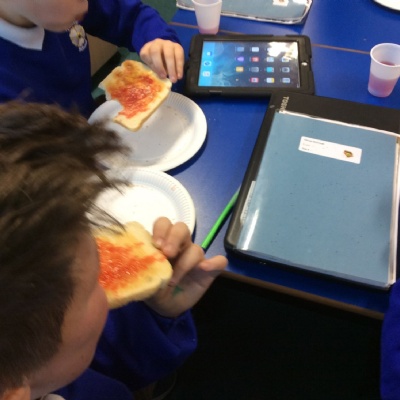 Pupils in upper Key Stage 2 have been enjoying the opportunity to attend a breakfast club every morning. The club has grown significantly from just catering for year 6, to having pupils from even year 4. It has been a tremendous success in many ways. The children are served juice, toast and sometimes continental style breakfast. They come into school at 8:00am each day and place their written orders to Mrs English and Mrs Higgins after viewing the menu.
Children are allowed to use the laptops and Ipads to view educational websites, complete hmework or just sit and read.
Here are a few comments from the pupils who attend:
Demi year six
I love breakfast club because I get to practise my spellings and maths then apply them to my work.
Dina Year 4
Breakfast Club is really fun and we get to our own breakfast. It gives me a chance to be independent.I also get to play educational games.
Ronnie Year 6
Breakfast Club has been amazing ever since I started it and I am grateful that I have beena part of this club. It is incredible.
Ruby-June
I like that i have an option for what I eat or drink.