A number of important news items. It's getting to that really busy (but really fun) time of the year.
Thursday 19th November- Newsletter 6
Dear Parents/ Carers,
Welcome to our latest newsletter. There is a lot to fit in today and that is not surprising considering we are entering what is usually a very busy (but very enjoyable (!) period of the year). We pledge to ensure that the children of Tudor enjoy the festive period whilst producing the amazing work that we know that they are capable of…
An update about how we are responding to COVID…
First of all, I think it is a good time to give you some information about how we believe we are responding as a school to the health situation. Tudor remains professional and committed to doing the right things at the right times and, importantly, our actions evidence this. At the time of writing this newsletter, we have not had any teachers testing positive to COVID. There have been some periods of staff absence whilst a teacher is awaiting the result of a test of a family member but, as yet, we have not had to action any class closures (or similar). Please be assured that in EVERY situation where there has been the slightest concern, the school has informed the member of staff that they are unable to attend school and the official testing procedure/ guidelines has been adhered to. I am fully aware of the responsibility that the parent community place on our school and I hope our actions so far have met your expectations. The guidelines that are in place are set by government and we are determined to meet the highest standard of care.
Plans are already in place for any classes that do close but let's all hope that does not occur. A large number of schools have not been as fortunate as Tudor and many children in Dacorum and further afield have had to close bubbles/ year groups. As an online meeting for the 50+ primary heads in Dacorum evidenced last week, we are all having to juggle a number of issues at the moment but our priority must always remain the safeguarding and wellbeing of our communities.
Our biggest strength will always be the teamwork and cooperation given by the parent community so please do recognise that ALL at Tudor are appreciative of your support at the moment. This is YOUR children's ONE chance at an education and the primary years are the most important years of all in regard to their academic development. Let's ALL stay #TeamTudor
So, does being in school EVERY day really matter?
YES- Every day really does matter at Tudor and I trust the following pictures demonstrate that. Lily Ann (like lots of other children) visited my room this week- she was just so SUPER proud of the progress she is making at school.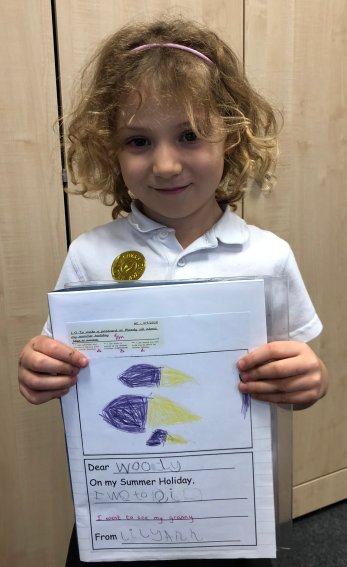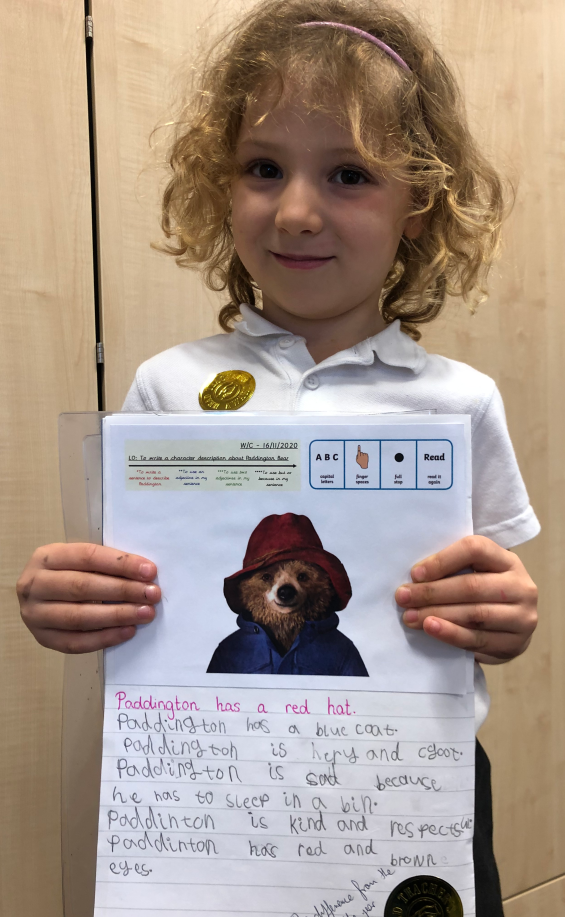 The improvement in writing content, handwriting and INDEPENDENCE that 9 weeks can make is quite amazing! This is why a true commitment to full attendance as well as attending those extra opportunities/ interventions that are provided at school can be LIFE-CHANGING- it really is not an exaggeration to say that. YOU are the most important teachers (by far!) in your children's lives and I am delighted to see the positive experience of education that the vast majority of children are able to enjoy…
How will we adapt our approaches at Christmas?
I think we are all aware that the festive period is likely to be a little (well maybe a lot!) different this year. We are DETERMINED to make it memorable for all the right reasons though. The team at Tudor are currently discussing ways to ensure the children have the super time that they DESERVE. First of all, the children will enjoy their Christmas Lunch on Weds 9th December. On this day, the children can wear festive jumpers too. Lunch costs £2.60 unless entitled to FSM or UFSM (R-Y2).
The Friends of Tudor will be doing their letters to Santa again this year, look out for letters home for the opportunity to get a personalised letter from Santa to your child delivered to your door, complete with fun items such as chocolate gifts and reindeer food. Thanks to the FOT!
We are unable to share cards in school in December but we have super 'alternative'. Each classroom will have a tree on the wall and we invite children to print off a picture of a bauble at home (or collect one from their teacher) and write a message to their classmates to place on the tree. We believe that these trees will look super once they are filled with these heart-felt decorations. More information will follow on this- keep a look out for what is in store…
Little Fawns Pre school would like to say 'Hello':
Hi! I'm Jenny Ivory and I will be opening up Little Fawns Preschool & Forest School at Tudor Primary in February 2021. I have over 18 years experience working in Early Education and obtained a First Class BA Honours Degree in Education. I have worked in many different settings over the years which lead to me opening up Little Gaddesden Preschool & Forest School 6 years ago.
I am very passionate about children learning through nature and being outdoors. This underpins a lot of what we offer at Little Fawns, ensuring the children spend as much time as possible in our Outdoor Classroom and Forest School area. We take a very child centred approach to learning through play ensuring that each individual child is supported, respected, nurtured and encouraged to achieve.
We will be offering flexible, high quality provision for all children, accepting 15 & 30 hour Early Education Funding for 2, 3 & 4 year olds. We will be working in partnership with Tudor School to deliver the 30 hour provision to children who attend Tudor Nursery. I'm really looking forward to meeting some of you in the near future. If you have any queries, please do get in touch!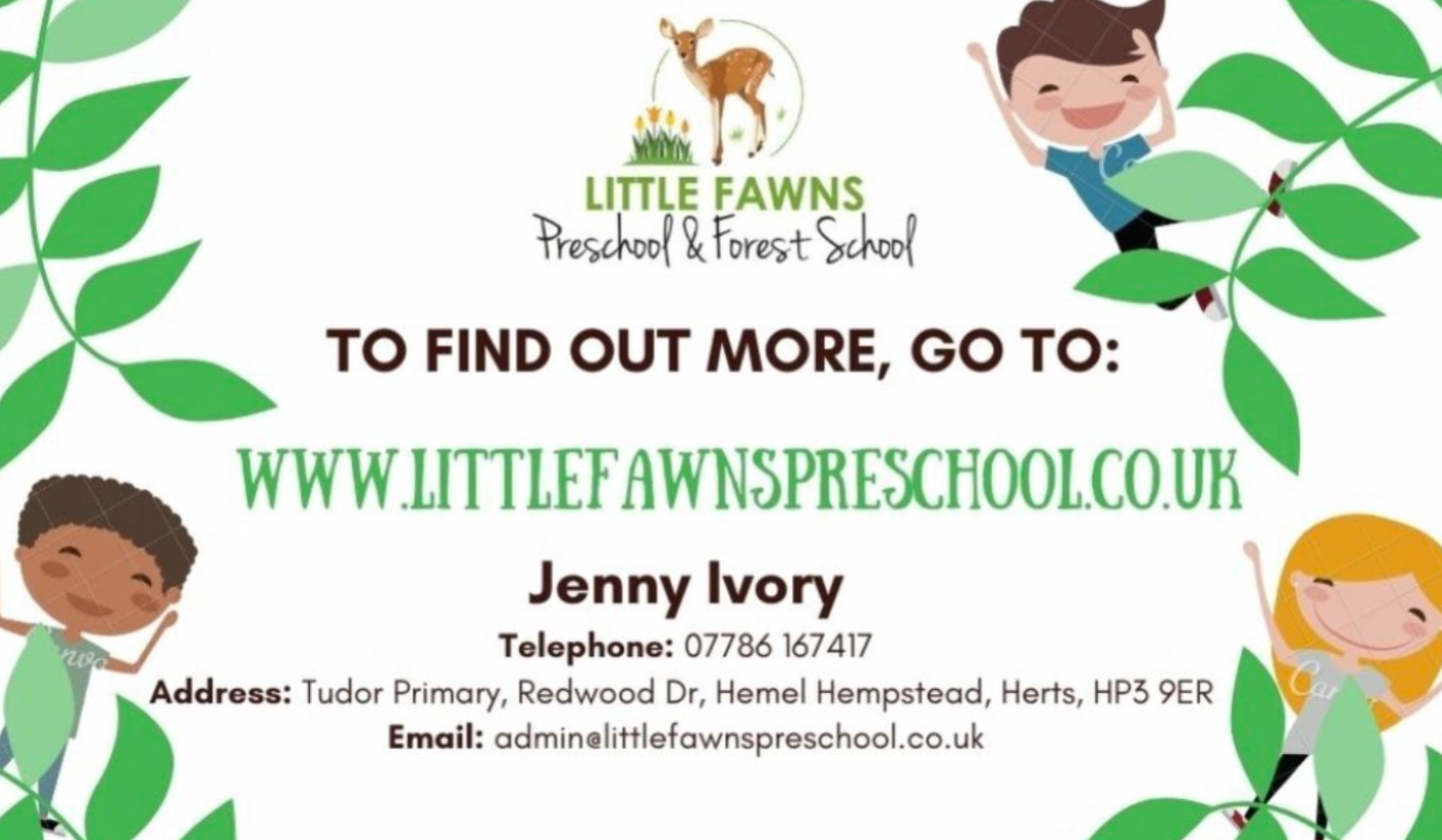 www.littlefawnspreschool.co.uk
Goodbye to Mr Donley- Whilst we say hello to a new provider in pre-school, we are sad to be saying goodbye to Mr Donley who has been our site manager since 2017. It is fair to say that the school looks VERY different to how it did then and Mr Donley has been a big part of that. The children deserve the best quality environment and we are determined to appoint a fantastic replacement. We wish Mr Donley well in the next stage of his career. We will remain in touch!
Extra Flu Vaccinations- Flu vaccinations are taking place on 27th Nov for those who missed out last time – a form was emailed home last week or there are paper copies available. Hand them in to the office if you wish your child to have the vaccination.
The final day of the Autumn term is Friday 18th December and school will finish at 2pm on that day. There is still a long time until then so let's continue to enjoy what school is able to offer us all. There will be lots of fun surprises for the children and we pledge that, whilst the country is having to struggle with a very difficult situation, Tudor will continue to be a place of joy and happiness!
Mr Weightman
#TeamTudor