Lots going on and so much to be PROUD of...
Newsletter 17
Thursday 29th April 2021
Dear Parents/ Carers,
When lots of things are happening in school it really is an exciting place to be. Classes are now extremely settled and the children are highly engaged in their work. As well as our 'normal' provision, the experience of school has been further enhanced with a wide range of extra- curricular activities. Swimming has returned and we are looking forward to lots of fun during the remaining weeks of the school year. Speaking of fun, the after school clubs have really enthused the children, especially the Wednesday Wheels and Friday Free-wheeling clubs when children can use the school site as a park. It was great to see the children zooming around as well as provide opportunities for parents to see each other. Teas/coffees will be on offer during these sessions in the future and we will also organise some extra special surprises for them!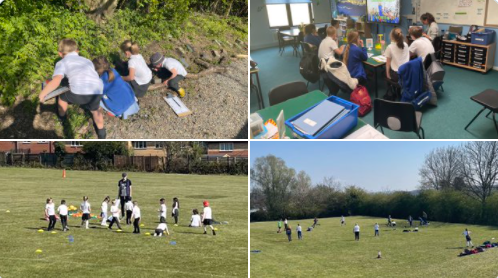 Meeting the needs of pupils… for now and ever!
Pupil progress meetings (PPMs) have been taking place in school this week. These meetings are an important part of our procedures at Tudor as they enable us to adjust/ refine our practice and/ or identify a need for further investment in the children. As you can imagine, the two separate school closures have impacted hugely on the pupils and we must look to effectively help them get back on track. Our school led tutoring strategy is part of this as well as the creation of supplementary learning clubs. Please do not look on the offer of such clubs as a 'concern'- we simply want the children to benefit from a full (and balanced) curriculum and such opportunities will help build confidence as well as independence now that the children are back with us. The atmosphere around school is super at the moment and that is because we want the children to enjoy the range of subjects they enjoy- do please work WITH us in allowing your children to benefit from any extra support we are offering your children. We promise it will help them.
Attendance and punctuality – it makes a difference (in lots of ways)
It is pleasing to share with you the (hugely) improving attendance picture at Tudor and we are (finally) able to be proud of our attendance levels. We hope this positive picture is not eradicated by families taking unauthorised holidays in the near future though- the children need to be in school more than ever! As well as being of huge importance towards the educational development to your children, being in school and being on time evidences a true commitment to a school and also a level of respect towards the way the school is run. For those (very) few families who are often late, not only do children miss out on learning time, members of the office team (and others) then have to spend time escorting pupils to different parts of the school. School opens its doors for 10 minutes EVERY day at 8.45am before the official start time of 8.55am- children are recorded late if arriving after 9am- surely if you are 5 minutes late every day, it will not improve unless you start to leave your house earlier. Thank you to the VAST majority of parents that work WITH the school in enabling their children to benefit from a full education.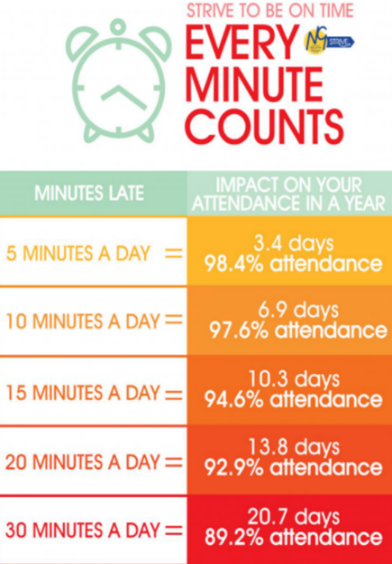 INCLUSION at Tudor- a message from Miss Reading, our Inclusion Lead
I will be introducing the 'Five ways to well-being' during assembly this week. The 'Five ways to well-being' are five evidence based actions designed to improve well-being for all. The actions are: connect, give, take notice, keep learning and be active. If you would like more information about the five ways, I will be facilitating a parents/carers online meeting on Thursday 6th May at 9.30 to explain this further. If you would like to attend please contact me via email: inco@tudor.herts.sch.uk and I will email you the meeting invite.
Half Term Cycle Course- The school will be the venue for a (further) balance and ride cycle course during the half term holiday. The course proved very popular (and enjoyable) in the last holiday period and many of our children learnt how to cycle with confidence and safety. The dates in June are Tuesday 1st and Wednesday 2nd. Full info available below.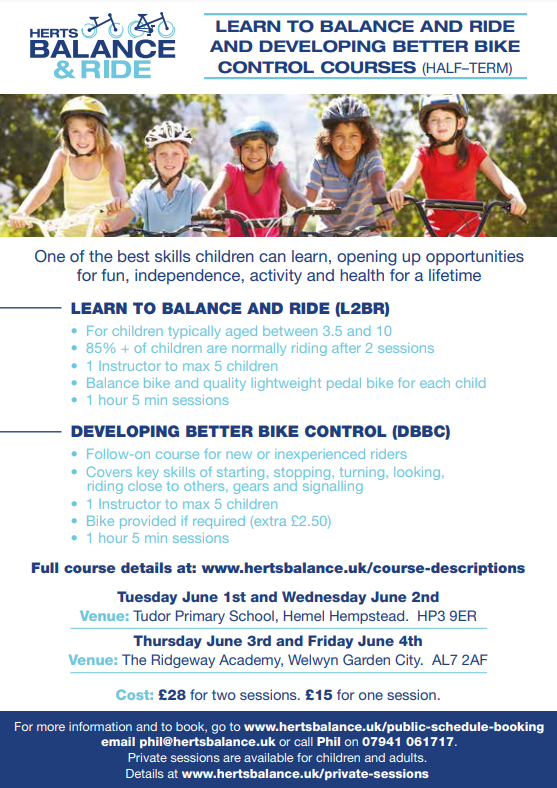 After school clubs- Please make sure you have paid for the summer term after school clubs by the end of THIS week (30th April). The school has heavily subsidised all the clubs but we would still appreciate prompt payments to be made via our preferred method of School Gateway on the app or at www.schoolcomms.co.uk or in cash in the office.
Our Tudor (Summer) Christmas- 8 weeks to go! Friday 25th June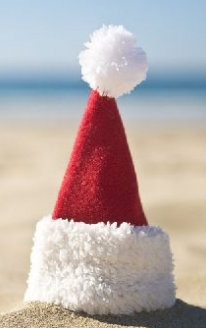 For those parents that have said: 'Are you really having a Christmas Day on Friday June 25th?' the answer is YES WE ARE! School has already booked a theatre/ pantomime experience and we will soon be looking to organise parties as well as a secret santa-style present swap. More information will follow but we really want to make this a day to remember- it might be a little too warm for festive jumpers but we'll certainly have a memorable day!
JCA are unable to offer a Year 6 residential this summer
It has been disappointing to hear from JCA that year 6 will be unable to attend the 5 day residential at Condover Hall in Shropshire. Due to the ongoing uncertainty in the travel industry JCA have decided to cancel all overnight stays- so disappointing! Whilst the year 5 cohort will be visiting in October when they are in year 6, we will now be planning some other fun experiences for our current year 6 children so that they still are able to enjoy a super send off. They deserve it!
The school site is looking TudorMAZING!
Despite only being in post since January, Mr Denny has made a huge positive impact in his role as site manager. As well as ensuring everything is in tip-top condition for your children, he is clearly determined for the complete Tudor site to be the best around. His hard work is clearly inspiring others- the children of Tudor just LOVE helping out with litter picking at lunchtime!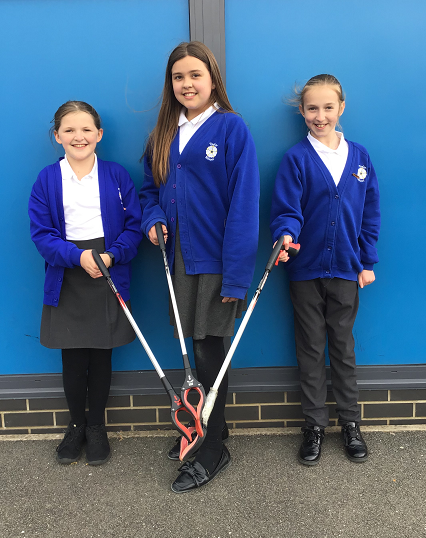 Megan, Shayla-Rose and Klara (and many others!) have been demonstrating what it REALLY is like to be #TeamTudor. In fact, if any of you want to know what the pupils really want for a present- it's one of our litter grabbers! If their hardwork at school is anything to go by, your children's bedrooms must be the tidiest around ;)
As mentioned at the start of this newsletter, there is so much going on around school at the moment and we continue to want the BEST for your children. We are, once again, WELL over subscribed for Reception next year and so many families in Hemel are putting Tudor as their first choice. Let's continue to work together and look out for each other. If you need anything, just ask!
Don't forget it is bank holiday on Monday. Enjoy your extended weekend…
Mr Weightman #TeamTudor