Let's all work together to make this a fantastic new year! UPDATE on class assemblies
I would like to start my first news update for 2017 by wishing you all a happy new year. The children have all returned happily and there continues to be a super atmosphere in school.
Parents are now able to come and watch their children in their child's class assembly. These take place each Thursday. Follow the link to the CLASS ASSEMBLIES section of this website to find out when you are able to attend. As well as being able to watch your child's class present, you will also be able to take advantage of the free refreshments on offer.
EXTRA UPDATE- Tuesday 10th January- GREAT NEWS for lunchtimes!
I am thrilled to announce that I have been able to source new furniture for the children who have packed lunches. From the moment I arrived at Tudor, I have not been content with the arrangements for those children who have packed lunches. Whilst the children have appeared happy to sit on the floor each lunchtime for their packed lunch, it was something I was determined to rectify. From tomorrow (Wednesday 11th January) the children will now be able to sit at tables and eat in comfort. A big thank you to Longdean School who, following their own extensive redevelopment plans, have been able to donate the tables.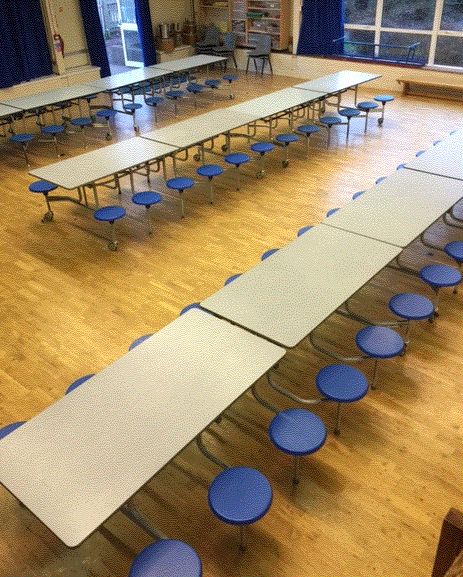 It will not be long before we receive our brand new dining room tables for those children who receive the hot food option. On the subject of the super kitchen staff at Tudor, I would like to congratulate Mrs Rafferty on achieving the 5 marks for Food Hygiene- this is the top rating.
The teaching team are excited to share with the children what is in store for this new term. The classrooms look very inviting and this is no more evident than in year 1 where the children will be learning around the theme of 'Enchanted Castles'- Mrs Allen and Miss Bell have even turned their doors into wonderful gateways to new 'lands of learning'.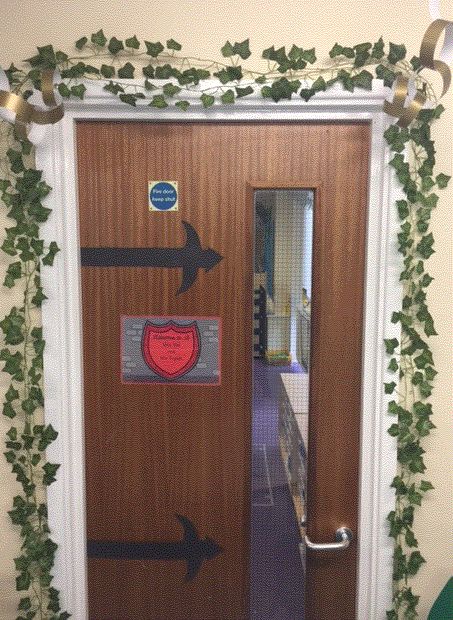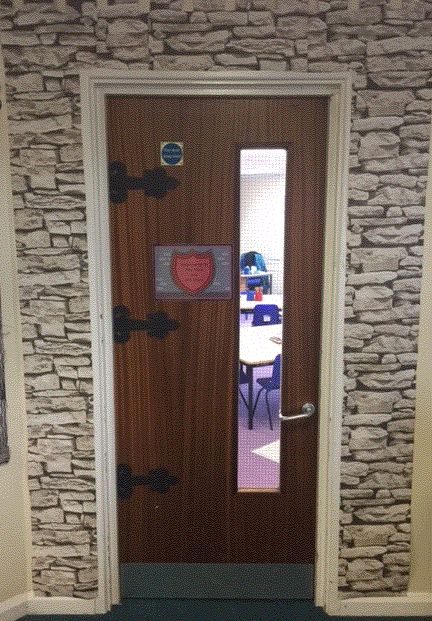 The imaginative approaches are not limited to our younger children. As I was walking through the key stage 2 building today, I saw Mr Munro and Miss Williams talking to their children about being safe in their classrooms...
Why was that?
I soon realised that tables and chairs were upturned in year 3 and 'dangerous substances' were on the floor- it was because an earthquake had happened during the lunch break.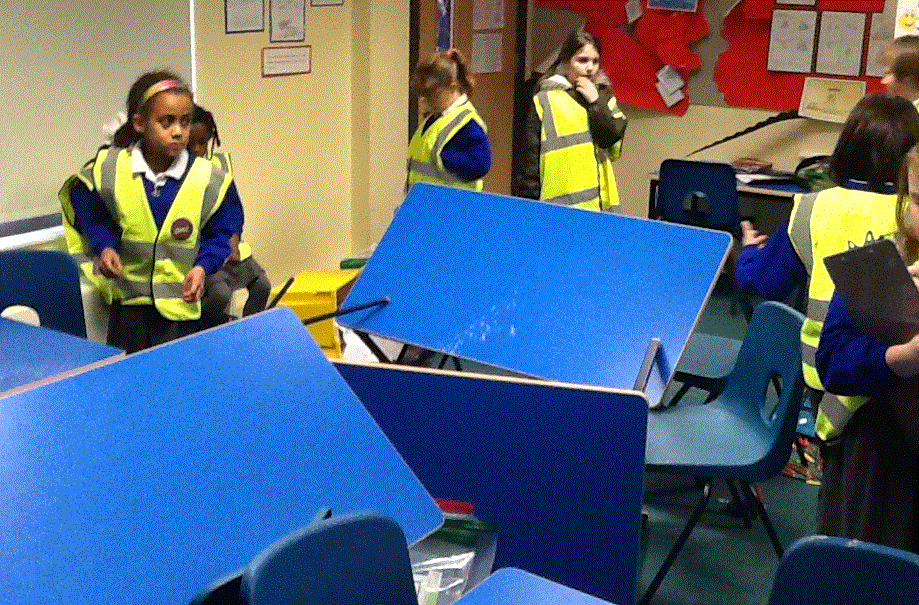 What an inspiring way to introduce a new topic!
Learning Opportunities for All...
The January staff INSET proved very rewarding for all who took part too. The teaching team were given training on how to present visual maths and this also included training on 'Bar Methodology'. I have led training on this in other schools and now I am keen for the children of Tudor to be supported by understanding how to visualise a problem so that it can be solved efficiently and effectively. I will also be sharing support and guidance for parents in the future on how to use such methods when supporting children.
Miss Cosby also led some training on developing a 'Tudor Approach to the Teaching of Spelling'. I am sure that you will soon see the impact of this important school development- the staff are clearly keen to put these 'ideas into action'.
As highlighted in previous updates, the physical appearance of the school will also see some changes. The entrance hall and offices will soon be furnished and decorated. As highlighted earlier, the school will soon be taking delivery of brand new lunchtime furniture so that ALL children are able to enjoy their food in more comfort. Please be assured that we will ensure any disruption is kept to a minimum.
As you can tell, there is lots going on at Tudor Primary and I am looking forward to sharing more positive news during what is to be a short, but 'progess- packed' term.
Mr Weightman