We've made a few changes during the break...
Whilst I am sure we all enjoyed the half term break last week, it was pleasing to see all the positive faces in school this morning back in school.
The new year 1 reading drive has now started and we look forward to this initiative being as succesful as the one that the children in year 2 continue to benefit from. Remember that if your child is in year 1, you are able to come into their classroom each day from 8.45 until 8.55. There will be rewards for the children as well as tips for you for when you read with your child.
On this first day back, Year 6 are spending the morning creating a drama assembly alongside a 'Road Safety Theatre Group'. I am sure they will have fun presenting what they have learnt to other classes this afternoon. Keep an eye on the year 6 blog for updates!
It is important to update you with some changes regarding safety procedures at the school...
We have placed some additional security doors at the school reception. During the day, you will no longer be able to simply walk into the school reception. If you require access, please ring the bell that is to the right of the blue doors.
This is now the bright, spacious area that welcomes visitors to school...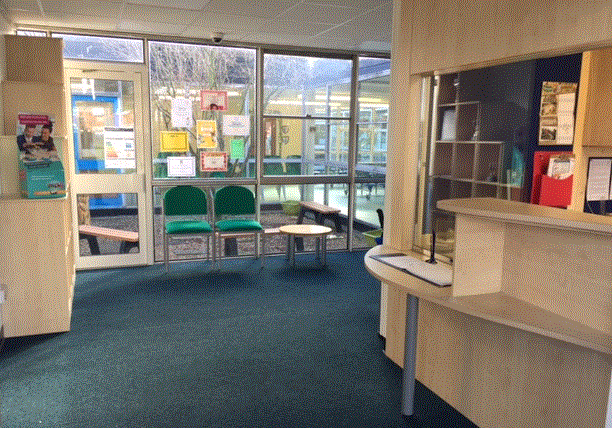 What a difference from...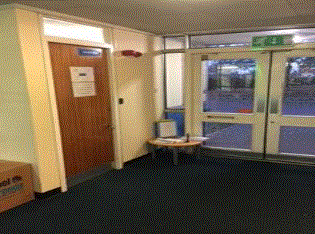 Do not forget all of the additional measures that we have put in place this year to make communication easier and more efficient. The home school diaries continue to ensure that teachers can be informed of any issues that you would like to share and being signed up for the online payments mean that regular trips to the office are no longer required.
Communication is also vital for the children. The Tudor Owls continue to work hard to ensure our school runs smoothly...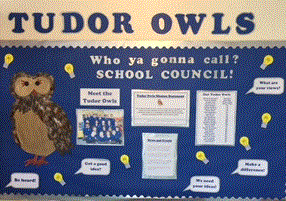 It was also great to hear the feedback about the mid year reports- it appears that you all value being informed about the academic (as well as social) progress that your child is making.
Mr Weightman