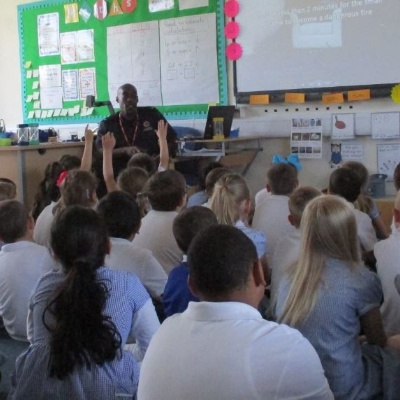 A hot, busy, (but rewarding!) week at Tudor...
Monitoring and Evaluation week took place in school this week. This is an important week in school for many reasons. It helps us recognise how we can continue to develop and grow as a school and it also helps us to plan for the future. All teaching staff were given feedback on their teaching, marking and standards in books, as well as guidance and support on their classroom environments. All of these areas provide the leadership team with information about the 'day-to-day' standards in school and how your children are being supported. Whilst I like to see the children and staff every day, it would be impossible (not just overwhelming!) if I was constantly in and out of classrooms every day. I must say that, in respect of this, I have been very pleased how all the staff have responded to the expectations that I have placed on them this year. I have endeavoured to keep an effective balance between the introduction of new ideas/ initiatives and recognising the strengths that existed before...
Feedback is vital in any profession but I do think that in schools it is vital. The pupil voice study proved very interesting for many reasons. The fact that the children were so honest and insightful about their school was super and they will certainly keep us all on our toes with their 'requests' for the future. Follow this link if you would like to read what the Tudor children really think about their school!
In addition to the overall feedback, the leadership team are able to see the views of more specific groups such as boys/ girls and classes (and ages). To meet the needs of such a wide ranging set of views will be an interesting challenge.
It was great to hear that the school now has a sponsor for a school football team. Next step will be to make sure that we actually are able to 'deliver' a team that we can all be proud of. Mr Higgins is 'chomping at the bit' to put his plans into action and if the engagement in his new after-school sports clubs are anything to go by, the future is bright. As an avid West Ham fan I would love to be able to watch a team that can actually win something...
Speaking of success, the FOT Quiz night was a fantastic event. I have attended many schoool quizzes in the past but this really was the 'tops'. Mrs Billing was a fantastic host and she made sure that the 'competitors' had a fun night. Well done and thank you to all that made the night so successful- we now have another £500 towards a school project that will benefit all of the Tudor children.
I trust that this web update does highlight the range of 'activties' that have taken place this week. Have a look at the class blogs to see what has been going on in the different classes- there have been lots of visitors too from firemen visiting year 2 (picture above) to the NSPCC leading workshops on pupil safety.
Whilst I want to remain positive in my correspondance with the school community, I continue to be frustrated with the attendance issues that adversely affect the impact that Tudor Primary can have with your children. The attendance rates are still too low and this is obviously not helped when parents choose to take additional term time holidays and/or fail to send their children to school due to reasons such the fact that there is hot weather.
Our potential will only be realised if we all do our bit when making the right decisions, however difficult these 'choices' might be.
Mr Rob Weightman/ Headteacher