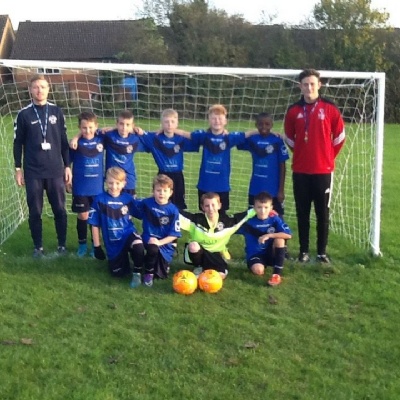 As you will have read in a number of previous newsletters, I am determined for sport to become a strength of our school. I believe we are now well on our way to helping make this happen: we have invested in new school staff and we are committed to ensuring that children have a wide range of sporting opportunities whilst at school.
A big part of this is Tudor being represented (and represented well!) in events and competitions. It is fair to say we are playing a lot of 'catch up' but we are sure that we are doing the right things.
Therefore, I am absolutely delighted to inform you about the recent victory of Tudor Primary's football team. It is not an exaggeration to say that it is the first time in over 10 years that Tudor has won a game! In fact, Mr Higgins (our sports coach) was in the team himself when the school last recorded a victory. For your enjoyment (and relief!) here is the match report for our first win...
Tremendous Tudor Triumph!
Last Friday saw Tudor Primary record their first football win for approximately 10 years, after a well fought game against a strong Brockswood Primary side.
The game got off to a great start with a brilliant opener from Balazs, after a fantastic first touch around the last defender. Brockswood instantly hit back to level the score line, after squeezing one in the back of the Tudor net soon after.
The second Tudor goal came from Tao, who displayed great composure to slot one in the bottom corner, after some brilliant build up play from the rest of the team.
George later put Tudor even further ahead, exhibiting some fine skill in the Brockswood penalty area, before calmly finishing off a fine solo effort.
Brockswood then showed great determination by powering another into the Tudor goal, closing the gap between the two teams.
After some tight battles in midfield, a brilliant corner came in from the right hand side. Ben managed to direct a fantastic header past the Brockswood goalkeeper from this, increasing the scoreline to 4-2!
Both teams put in great performances as the game went on, but it was the Tudor players who ended victorious!
Man of the match performances had to be shared between Balazs and Tao, with Mr Higgins and Mr Miller struggling to decide between the two.
The boys looks forward to two fixtures in the coming week, with a home game against Hobletts Manor, and Tudor's first away visit to Gade Valley.
I believe there have been 'steps forward' for our pupils over the past year- and this one has made us all very proud indeed.
And it's not just the football team that is experiencing sporting success: the 'Year 2 Target Squad' also performed very well at a recent inter-school event when they achieved 3rd place overall. Have a look at the report attached below...
Well done to all involved!
Please enter some content for your news story here.