The second half of the school year is underway...
Having builders and diggers at the front of the school is an interesting distraction for children but they are an indicator of how much work is being completed around the school site. The hall is really coming along and, as the picture highlights below, it really will be a super size...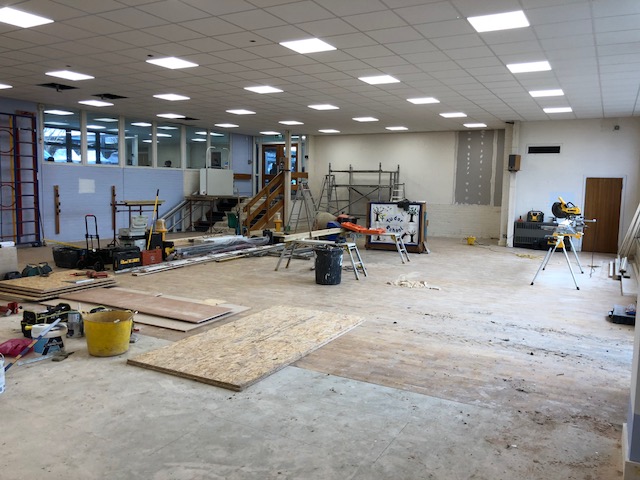 The ceiling and lighting has also been upgraded (in the dining area too!) and a new audio system (hurrah!) will be ready to (rock n) roll soon too. I am determined for this space to be a focus for celebration for many, many years. It certainly makes me more confident than one of the original plans that had posts in the middle of the space holding the roof up! This time next month we will be there...
The application form/ letter for our new breakfast club will be in bags this week so do make sure you complete this if you would like your child to attend this provision from 7.45am each morning. A number of our valued staff are excited to be the team that will deliver this new opportunity that will provide high quality care. We listened to feedback and we are very confident that the cost will be acceptable to families- as I have said before, it's making sure we get the right balance...
Payments for the breakfast club will be made via schoolgateway and there is guidance on our website for how to use this online payment system. We are 'thinking big' with the breakfast club and have planned for a capacity of 80 children. I understand that this is much bigger than for breakfast clubs in other local schools so I do hope we meet the 'need' of the Tudor community. As with our other clubs, if capacity is reached we will use a ballot system when we are giving out places. I do think that this is much fairer than 'first come, first served' as not all parents/carers are able to hand in slips immediately. If you have any further questions, do not hesitate to come and ask. We will always aim to be a school that responds in the right way...
It is monitoring and evaluation week next week in school. We are very proud of the teaching team we have in place and the activities that will take place in school next week will ensure that we continue to evolve and refine our practices. We must always aspire to be the best we can be and do all that we can to make sure the children of Tudor have the highest quality opportunities presented to them.
Speaking of 'evaluation' and school improvement, the school received a visit from our school advisor this week. This 'review visit' went very well and the initial feedback highlighted many strengths about what we are doing at Tudor. The focus during this visit was on our children in EYFS and KS1 and there was a lot of praise for how the teachers support the needs of our younger pupils. I would like to take this opportunity to say a big well done to the teaching team for how they continue to support the Tudor children!
It has not just been the school advisor that has visited Tudor recently. We are now experiencing high numbers of tours for Nursery spaces next year and we have also had a lot of interest for in year admissions from other schools- locally and further afield. To highlight this, one of our year groups has had over 10 new faces in the last 16 months alone! A key factor in our 'success' is the high standard of behaviour that the children display in school- the 3 (new) principles of Kindness, Respect and Responsibility are evident to those who come and visit our school.
Thank you for your continued support.