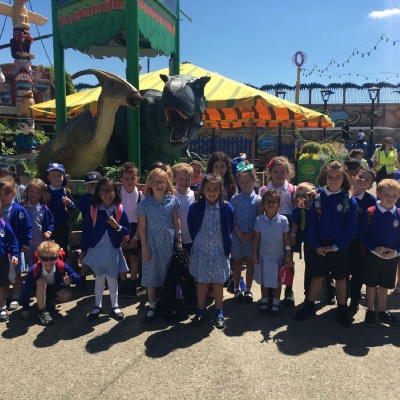 Getting out and about...
'Oh we do like to be beside the seaside'
On Monday 18th June, the children in Year 1 visited Southend-on-Sea. This visit was a part of their term's theme on 'Seaside Rescue'. For a number of reasons this has been a really enjoyable topic for the children and the excitement levels were raised even more when they first made sight of the sea. As well as a visit to the sea life centre, the children were able to experience a range of activities by the coast- and they had a wonderful time.
It has been great to hear their stories about what they learnt but, as headteacher, I was also thrilled to hear the views of a local resident. The elderly lady said that, whilst she sees lots of school children visit the seaside in the summer, she could not recall seeing such a well behaved group. She was very keen to inform the school staff that the Tudor children were an absolute credit to the school. Well done everyone.
Tudor Cricket Success...
On Tuesday of this week, the Tudor Cricket Team attended the Dacorum inter-school Cricket tournament. It turned out to be a rather successful experience...
After going unbeaten in the group stages in which we beat Lime Walk and Kings Langley, the team then beat Yew Tree in the next round.
Mr Higgins would like to to commend all the children but special mentions fo to Lewis M who batted superbly well throughout. Also, Archie B, Alfie S and Ben B were super in the field from brilliant bowling to cool catches.
In the semi final, the team were unable to beat Greenway of Berkhamstead but they were awarded 3rd place overall due to previous results. Considering that the children were up against approximately 20 other schools, this high-finishing place just further highlights how the sporting success at Tudor continues to rise.
For more information and photos about this cricket achievement, do look at Mr Higgins' Tudor Sports twitter page- it is rather impressive. Find it at:
https://twitter.com/TudorSport
We are so excited about further sporting opportunities for the children in the future. Sport and activity must always be a vital part of growing up in schools!
Future plans...
It will not be long until year 3 and year 4 are off to Whipsnade as part of their work on 'What a wonderful world' and I know our reception children are looking forward to their 'Olympic Sports' event at the Hemel Sports Base. The younger children have had a wide range of visitors into school throughout the year and they are now 'itching' to experience learning further afield...
The fun just does not stop at Tudor! In or out of school...