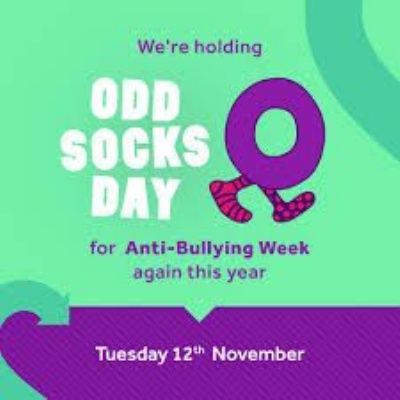 Anti-Bullying Week happens in schools across England each November. This year's Anti-Bullying Week has the theme 'Change Starts With Us' and is happening from Monday 11th November - Friday 15th November 2019. Children will be completing activities in class to support this theme and further support can be found on our website http://www.tudor.herts.sch.uk/page/?title=Anti%2DBullying+Support&pid=92
Odd Socks Day - What is it?
In celebration of Anti-Bullying Week, we are holding an Odd Socks Day on Tuesday 12th November. This is a national initiative supported by the Anti – Bullying Alliance who are encouraging students to wear odd socks to school to show their support for Anti Bullying Week 2019. Odd Socks Day is designed to be fun! It's an opportunity for students to express themselves and celebrate what makes us unique. There is no pressure to wear the latest fashion or buy expensive costumes. All the students have to do to take part is wear odd socks, it couldn't be simpler! Aside from the odd socks, students are required to be in FULL SCHOOL UNIFORM.