The Tudor Governing Board
The Chair of the Tudor Primary Governing Board is Dan Jones. He has held this position since September 2019.
The school benefits from a committed governing board. As recent county feedback stated:
Governor involvement is robust...a good working knowledge of the school. Governor engagement levels are high and the safeguarding governor meets regularly with staff to monitor procedures and best practice. Governors articulated the same passion and values observed across the school.
The picture below relates to the 'Outstanding Governance Award' for 2018 that was awarded to Mrs Jenny Howard, the Chair of the Governing Board at Tudor Primary in November 2018.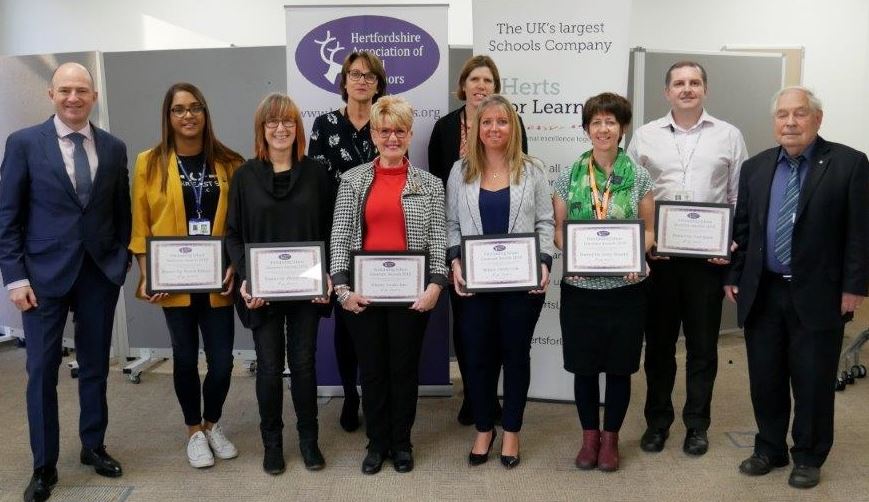 The current Tudor Governing Board is made up of the following members:
Mrs Shalini Parke
Attendance record 2021-22

First appointed: 15/06/2022

Possible

Actual

Current term of office ends: 14/06/2026

Category: Staff

FGB
1
1

Committees:

Office:
Mr Chris Mansfield
Attendance record 2021-22

First appointed: 24/04/17

Possible

Actual

Current term of office ends: 23/04/2025

Category: Co-opted

FGB
5
5

Committees: Finance

Premises

Personnel

H&S Governor

2

2

1

2

2

1

Office:
Mrs Pauline Chalmers
Attendance record 2021-22

First appointed: 28/03/2017

Possible

Actual

Current term of office ends: 22/03/2025
Category: Co-Opted
FGB
5
4

Committees: Premises

Personnel

SEN Governor

2

1

2

1

Office: Chair of Premises Committee
Mrs Chrissy Rogers
Attendance record 2021-22

First appointed:29/09/2017

Possible

Actual

Current term of office ends: 20/07/2022

Category: Co-Opted

FGB
5
4

Committees: Premises

GDPR Governor

2
1
Office:
Mrs Susannah Arje
Attendance record 2021-22

First appointed:

25/10/2018

Possible

Actual

Current term of office ends: 24/10/2022

Category: Parent
FGB
5
5

Committees:Finance

CLA/CP/PPG Governor

2
2
Office: Vice Chair of FGB & Chair of Finance
Jon Brown
Attendance record 2021-22

First appointed: 22/10/21

Possible

Actual

Current term of office ends: 21/10/25

Category: Parent

FGB
4
3

Committees: Premises

1
1

Office:
John Fagbohungbe
Attendance record 2021-22

First appointed: 11/01/2021

Possible

Actual

Current term of office ends: 10/01/2025
Category: Co-Opted
FGB
5
2

Committees:

Office:
Mr Dan Jones
Attendance record 2021-22

First appointed: 24/04/2017 (as LEA gov)

Possible

Actual

Current term of office ends: 23/04/2025
Category: LEA
FGB
5
4

Committees: Premises

Finance

Phase Lead Governor : LKS2

2

2

1

2

Office: Chair of Governing Board
Mrs Amy Wright
Attendance record 2021-22

First appointed:08/10/2020

Possible

Actual

Current term of office ends:07/10/2024
Category: Parent
FGB
5
5

Committees:Finance

Personnel

Phase Lead Governor - EYFS

2

1

1

1

Office:
Mr Rob Weightman
Attendance record 2021-22

First appointed: 01/09/2016

Possible

Actual

Current term of office ends: ongoing
Category: Headteacher
FGB
5
5
Committees: All
5
5
Office:
Lucy Lee
Attendance record 2021-22

First appointed: 05/07/21

Possible

Actual

Current term of office ends: 04/07/25
Category: Co-Opted
FGB
5
3

Committees: Personnel

Phase Lead Governor - UKS2

1

1

Office:
Mrs Nicola Cree
Attendance record 2021-22

First appointed: 25/10/2018

Possible

Actual

Current term of office ends: 24/10/2022
Category: Parent
FGB
5
5

Committees: Finance

Personnel

Phase Lead Governor KS1 & Medical

2

1

2

1

Office:Chair of Personnel
Mrs Chris Chaplin - Clerk to the Governors