Finding the views of our most important people!
Have a look at the latest results for the pupil voice feedback below. We are keen to include the views of EVERY 'Tudorite'. The latest whole school survey took place in March 2022.
The views of the children are one of our KEY indicators when evaluating the effectiveness of our approaches in school. The children are very proud of THEIR school, and they are keen to share their views on how we can improve. Have a look at the questions we use- they are based on the lines of enquiry that Ofsted use!
A questionnaire is given to each child. Using a scale of 1-4 (1 being the most impressive!), the children are able to rate a series of statements.
EVERY child's views are then collected and this helps us recognise how THEY feel about THEIR school. We are also able to filter the results so we can see how different groups of children feel about their school. This is to make sure that the views (and well-being) of all children can be evaluated.
These are the results for March 2022.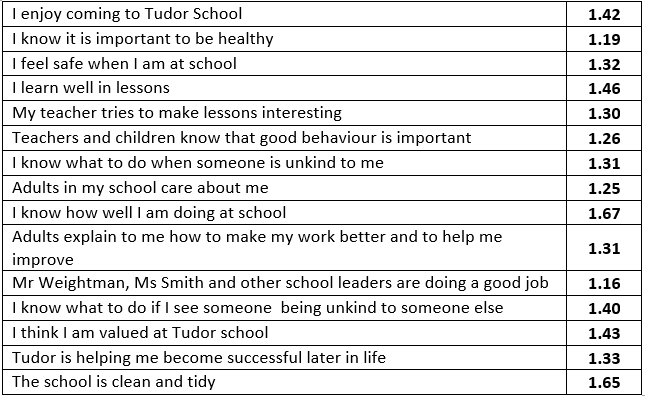 The children are also able to write (in free text) what they MOST like about the school as well as being able to share what they would like to change to make it even better. All of these responses are added into a word cloud. The more something is said, the BIGGER that word becomes.
Here is the word cloud for the BEST things that Tudor provides: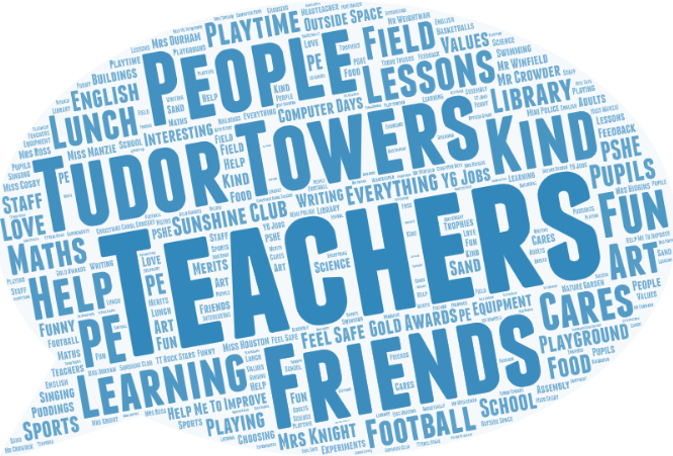 We use pupil voice a great deal at Tudor and the views of the children are also a vital part of our evidence base when completing school monitoring and evaluation. The children, after all, our the most important members of #TeamTudor.
So what do we need to improve?
Here is the word cloud to show what the children want to change: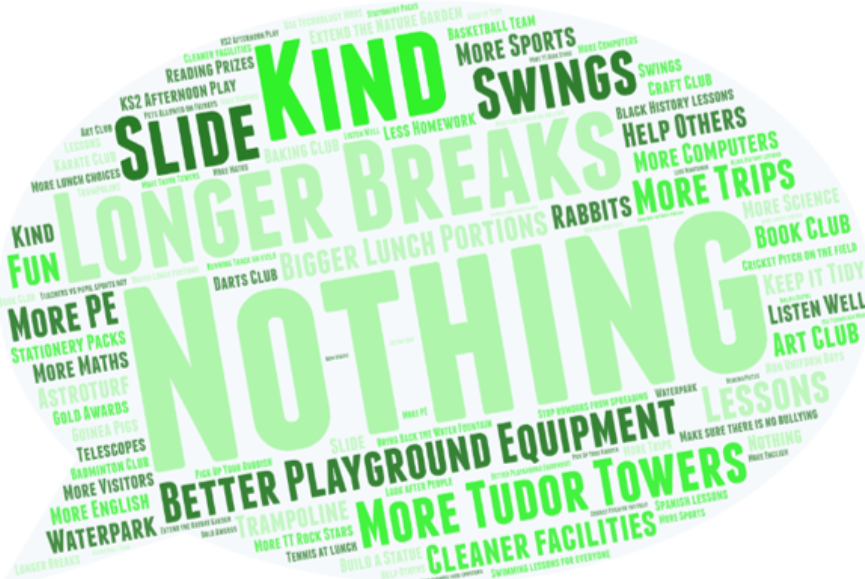 Furthermore, our continued work alongside our Hertfordshire Improvement Partner comes to evaluate our practice, she always spends a lot of time with the children. Here are some of the comments from a recent county visit report:
The pupils interviewed, spoke with pride about their school and were reflective about the challenges they faced during lockdown, and were rightly proud of their resilience and determination. When asked how they would describe Tudor to potential pupils they said:
"The education is great and teachers make it as fun as possible."
"Tudor is a teaching sanctuary. They are good at explaining and learning is enticing. It makes you get into learning."
"They offer lots of help and support."
"You never get into trouble for making a mistake. The whole point of school is to learn things you can't already do."
These comments are reflective of the work seen in books and a curriculum that offers breadth and enrichment, promoting ambitious vocabulary and aspiration.
We have completed a lot of analysis, and we have already actioned some strategies to make our super school even better! We ALL have a duty to be the best we can be, and we want Tudor Primary to keep improving. As a school we have a DUTY to be open (and welcoming) to the views of others and Tudor is keen to ensure we have a sound evidence base when we evaluate our practice.
You can also see the results for previous years below too.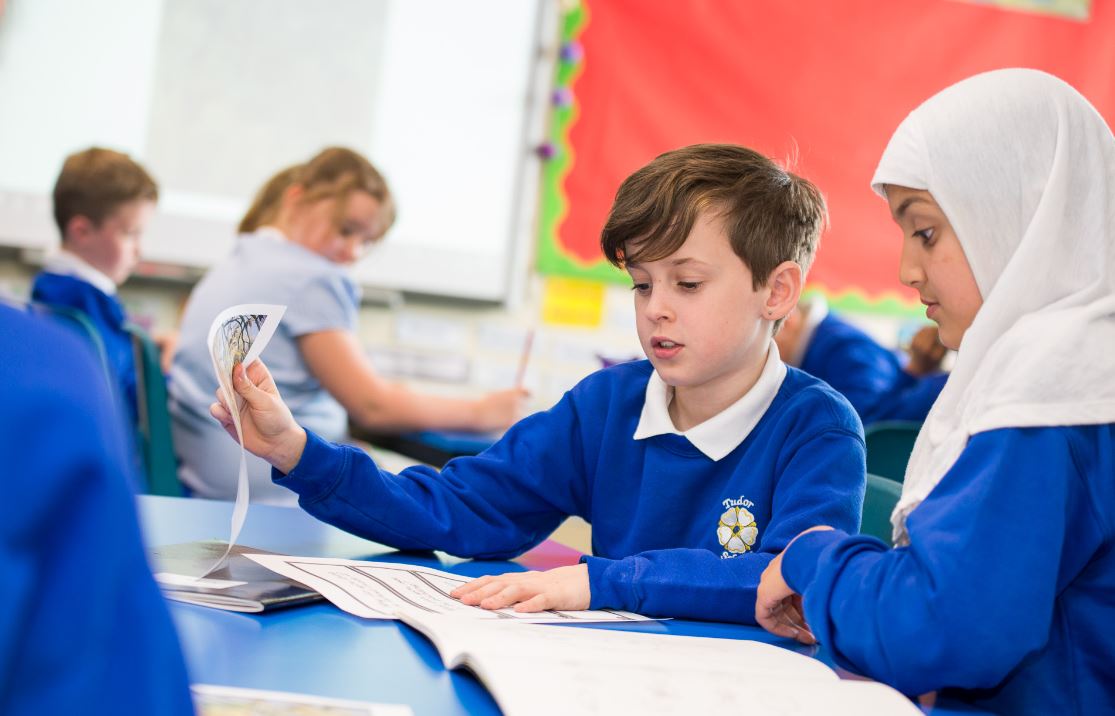 Every voice matters at Tudor Primary School...