The Tudor Owls are our school council.
Each class has two representatives, identified by special badges, who present their views to the committee.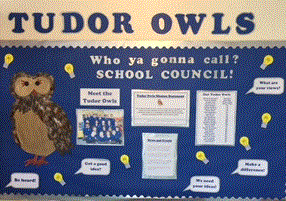 The Owls organise fundraising events, make decisions on purchases, raise issues relating to school rules and policies and report pupil concerns to staff meetings and to classes.
Tudor School's chosen charities
Our chosen charity for 2018/2019 is currently the 'Dogs Trust' which was agreed through a fair voting system across all classes.
In addition, we raised money for Children in Need on Friday 16th November by wearing odd socks to school (children are being asked to bring in a small donation). Odd Socks Day is part of anti-bullying week and we thought it would be a good opportunity to raise money whilst showing how great it is to be an individual!
Our chosen charities for 2017/2018, as voted by the children of Tudor School, were: Diabetes UK and Global's Make Some Noise. With the help of fortnightly cake sales, a non-uniform day and a toy sale, we have managed to raise a grand total of £1,000 for these two charities AND made a donation to a further charity Zellweger UK of £200 - WOW!
In addition to the money raised this year for these charities, we also donated the proceeds of one of our cake sales to 'Tourettes Action'. A huge £53.24 was sent to this charity who showed their gratitude with a thank you letter and certificate (displayed in our front entrance). Well done to everyone at Tudor School for their continued support.
Also, a big well done to our Tudor Owls who raised an additional £154 for our charities with a toy sale in November. All toys that were not sold were taken to the 'Children's Society' charity shop so that every toy that was brought in, went to a new owner.
Tudor Owls' Representatives for 2019/2020 are:
1O Francesco and Jasmin
1P Ava and Connor
2Q Mason and Cassia
2R Andreas and Joanna
3S Layla and Dylan
3T Joshua P and Emily
4U Sophie and Harry
4V Jayden and Aruthra
5W Charlotte and Ayaan
5X Louis and Shayla
6Y Halle and Toprak
6Z Josh P and Wiki