The Tudor Owls are our school council.
Each class has two representatives, identified by special badges, who present their views to the committee.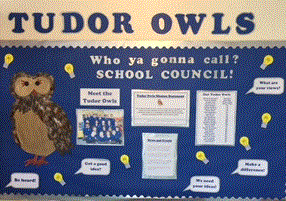 The Owls organise fundraising events, make decisions on purchases, raise issues relating to school rules and policies and report pupil concerns to staff meetings and to classes.
They are also able to represent their peers when asking questions to some rather important people- here are some of our Tudor Owls with their local MP, Sir Mike Penning, who visited our school in September 2021: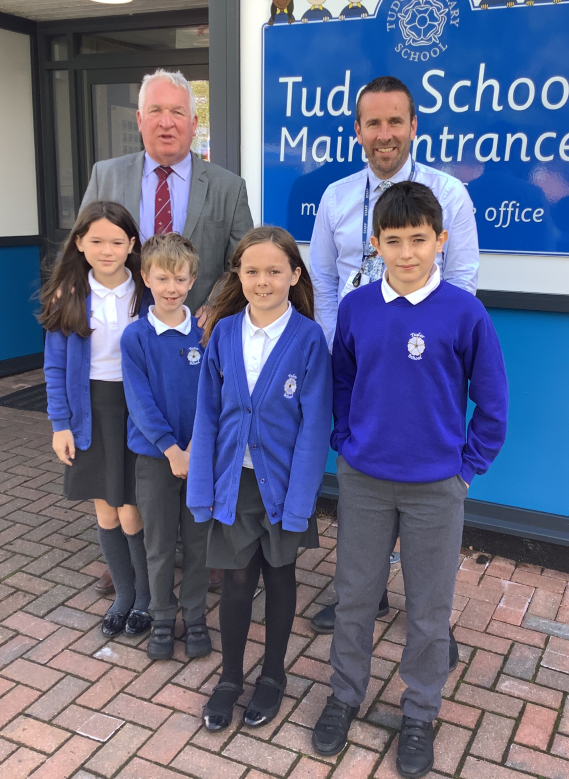 Tudor School's chosen charities
Our chosen charities, as voted by the children of Tudor School, have included: The Centre in the Park, Diabetes UK and Global's Make Some Noise. With the help of a range of a (creative) events, they have managed to raise substantial funds for a number of worthy charities.
Come and see our entrance hall which has a number of our achievements on display. There also a number of Owl-inspired upgrades around the school site- have you seen our friendship bench or our rainbow?
Making a difference- some examples of our impact
The children have also been involved in a number of initiatives including the healthy packed lunch scheme which included several visits from the school nurse. Tudor owls shared their knowledge with class friends and parents on what a healthy packed lunch should look like. We also asked for more litter bins on the playground to ensure there was no excuse for our school grounds to be tidy.
We are also remain part of the Woodfield School community initiative which involves children from multiple school councils coming together to discuss what amenities children have in their local area. It also allows both schools to have a lovely working relationship and for children to celebrate what makes each and every child special.
Tudor Owls' Representatives for 2021/2022:
Hadley, Ivey, George, Isabelle, Charlie, Dollie, Ben, E, Bobbie, George, Archie, Selena, Jen, Aiden, Cassia, Filip, Ruby, Callum, Imogen, Noa, Ryan, Imogen, David and Amy.