We ask the children to wear grey trousers/skirt/shorts, a white polo-shirt and a royal blue sweatshirt/sweatcardi. Children are also able to wear black trousers/ tights if they prefer. School sweatshirts are available from the school office at a cost of £9 for children's sizes or £11 for adult sizes. Sweatcardis cost £11 for children's sizes or £12 for adult sizes. We also sell summer hats and woolly winter hats at £4.50 each. Appropriate black coloured footwear for outdoor use, e.g. sturdy 'school' shoes (ones that stay securely on the feet), with low heels, allow the children to run around safely and comfortably at playtimes. When the weather allows, girls may also wear a blue checked dress which you can purchase from high street stores/supermarkets. Do ask at the office if you wish to purchase any second hand uniform - our PTA the Friends of Tudor regularly hold second hand uniform sales and they can look to arrange something for you.
Please support the school and maintain our Tudor standards-
Please note that shoes must be completely black. Whilst 'active' shoes/ trainers can be worn they must not have any coloured logos/ laces/ soles. Small buckles on leather shoes/ boots (not taller than ankle height) are allowed.
Hairbands/clips/ ties- We understand that children enjoy being imaginative and/ or expressive but please do consider appropriate choices for those 'extras' used in the management of longer hairstyles! For example, hairbands with 'large unicorn horns' or 'extended cat ears' are not appropriate for school.
Thank you in advance for your support in ensuring that your child is appropriately dressed for school.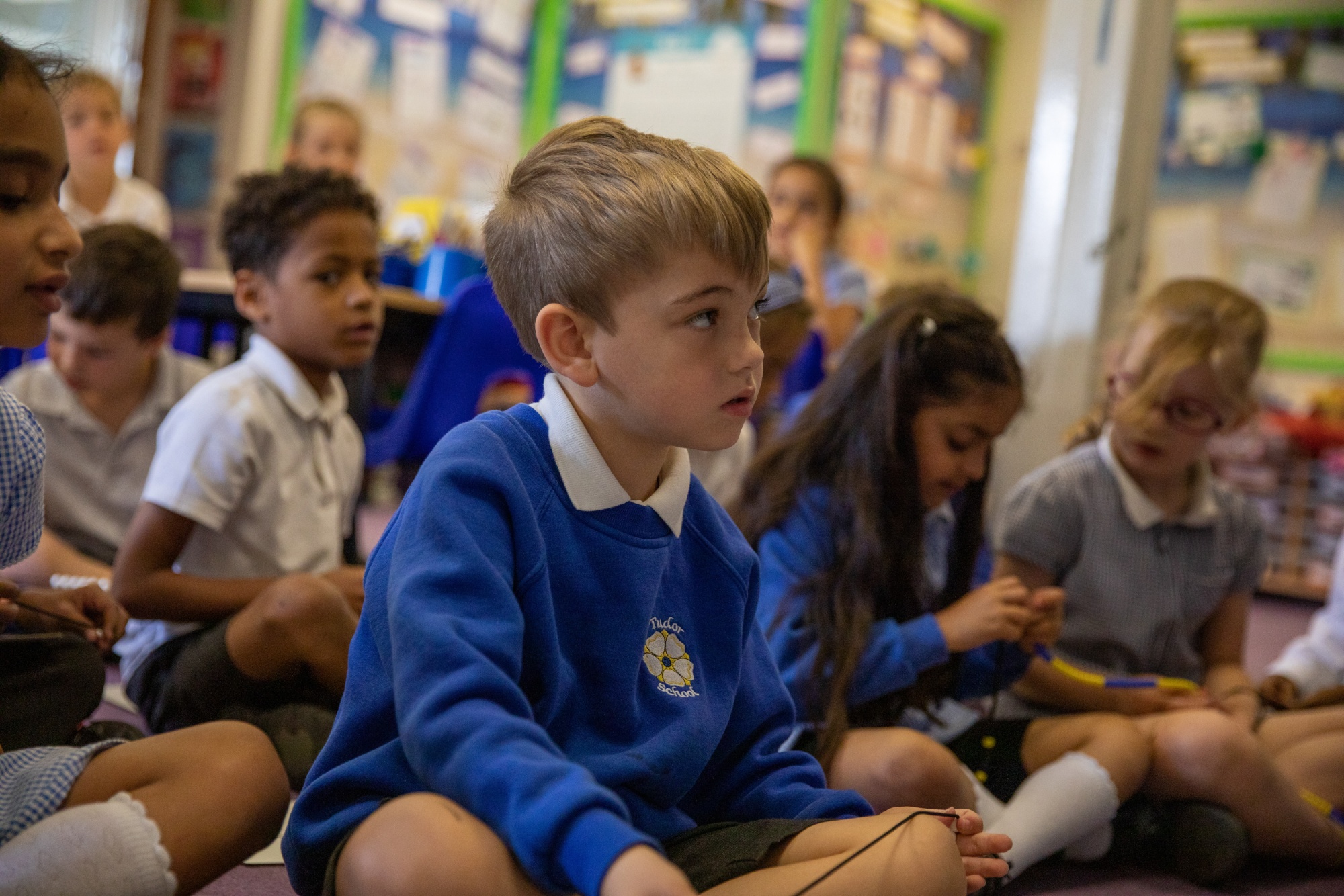 They will also need a PE kit and PE shoes suitable for outdoor activities. The uniform PE kit, which is available from the school office, consists of a short-sleeved T-shirt with shorts or tracksuit bottoms. If the weather is cold and the children are doing PE outside, they are allowed to wear their sweatshirts over their PE kit, but otherwise they must change their clothes for PE for reasons of hygiene. Current prices for uniform PE kits are: £6.50 for shorts; £5 for T-shirts; £10 for joggers.
Apart from wrist-watches and stud-earrings children should not wear jewellery to school. For PE activities earrings must be covered with surgical tape or, preferably, removed.
All clothes MUST be clearly labelled. We strongly recommend embroidered name labels, as these do not wash out and are the only reliable method of identifying ownership of school uniform. Order forms for embroidered labels are available from the school office or can be purchased online.