Click the boxes at the bottom of this page below to read our most recent newsletters.
To allow our newsletter to be read in different languages, the most recent newsletter is also copied below. Feel free to use the 'select language' when using a laptop/PC. This function does not work on mobile devices.
10th November
Dear Parents/ Carers,
The 'Big Build' has begun...
As I am sure you have noticed, the builders have arrived at Tudor and the work is underway to provide us with a fantastic new school hall. Despite the changes to site access (amongst other things), the school continues to operate safely and we are determined to keep disruption to a minimum. The hall now has a temporary back wall and this is in preparation for the main hall windows to be pulled down. It was amusing to see how some children thought it had been finished when they saw this new 'wooden wall' at the back of the hall- if only things were that easy!
Traffic on Redwood Drive
Whilst I like to be present on the playground each day, I have been supporting a little with traffic management over the last week. As many of you have commented, my hand signals to help the flow of people in and out of the school have become quite impressive. Joking aside, I must say that I have seen less congestion on the road outside than I thought I was going to. It is very evident, though, that when cars do use the 'voluntary one way system', the movement of cars appears to be much easier. Also, do recognise that children are able to enter classes at 8.45am. Teachers do have learning activities available in classes for children and Redwood Drive is noticeably quieter at this time. Walking to school and/ or parking a little distance away and then walking the final part of the journey is also advisable- anything that you can do to reduce traffic on Redwood Drive will be a great help.
Our Value for November- 'Peace'
Our new approach to 'school values' has been a real success this year and many children have already received awards for 'modelling' the value in their time at Tudor. Our values display in the hall is sharing our new value for November and it really does look impressive- many children helped create the final effect and it does really help us all to think about what is important in our lives.
Monitoring of Teaching and Learning
Despite the building work, we continue to press ahead with our work around 'educational' improvement. Next week, the leadership of the school will be monitoring standards of teaching and learning and this will involve lesson observations as well as looking at standards in books and in the classrooms. We are fortunate to have a stable, committed team at Tudor and I know that they are keen to be the best they can be! #goteamtudor
Attendance- It really does matter...
Well done to all those children who are still on 100% attendance for the year so far. We are very proud of how we are working alongside families to ensure that children are able to benefit from being in school every day. As all of the research highlights, high attendance leads to high achievement! The attendance figures for last week were:
R: 90.0% Y: 95.7% 1O: 99.1% 1P: 92.1% 2Q: 100.0% 2R:93.8%
3S: 95.8% 3T: 94.0% 4U: 99.0% 4V: 97.0% 5W: 99.2% 5X: 98.2%
6Y: 98.1% 6Z: 92.1% Total: 95.9% Target= 97%+ Let's try and make this!
Well done to 10, 2Q, 4U, 4V, 5W, 5X, and 6Y who all reached the target. Despite advice of others I am determined to not introduce 'fines' to parents. I am sure that we can reach the levels that other schools do using more 'supportive' approaches...
Tudor Primary FC is here... and here to stay!
When I became Headteacher at Tudor Primary I was determined to ensure sport played a big part in our school. Changes to the school staff mean that a sports coach (and new sports apprentice) can now deliver high quality PE to EVERY child EVERY week. We are also now taking part in local sporting events and I know that children enjoy the opportunity to represent their school. A big step forward is our new football team who have now played two games. Whilst the results have not been kind yet, the children are improving and we look forward to our first victories!
Don't they look great in their new Tudor FC kits!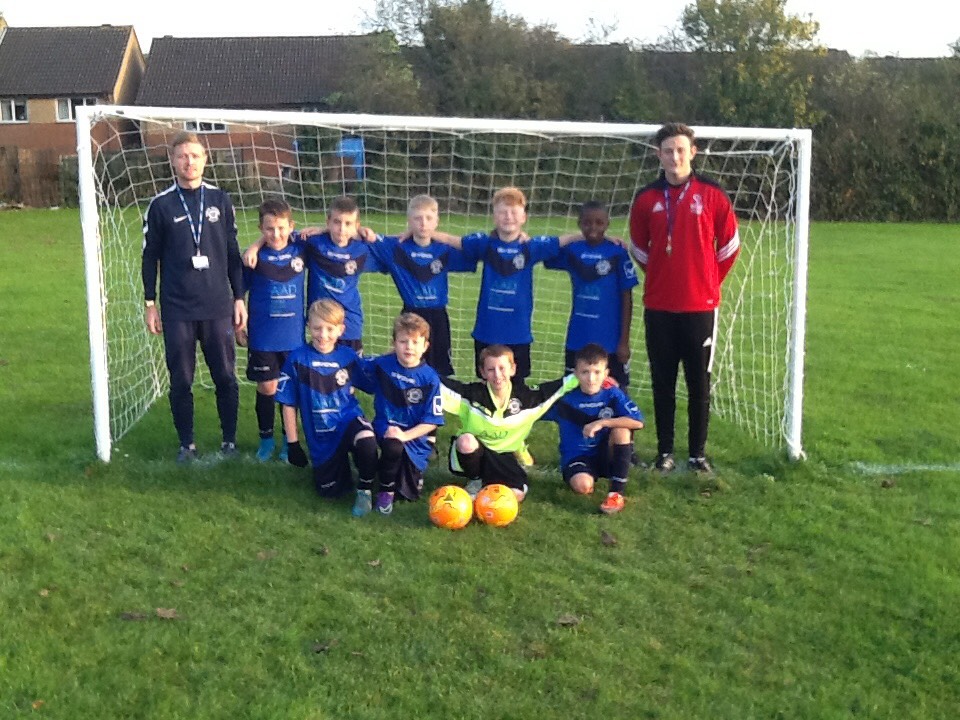 Netballers?
I will also take this opportunity to say that the uptake for our netball squad has been a little disappointing. We still have lots of spaces available and it would be wonderful to be part of a netball league at some point in the future- but we need the players! Come and see the office if you would like your child to take part.
FOT and their phenomenal Fright Night
The FOT Fright Night was a super success and I must say a huge well done to Viv and her team. The school and spooky playground were very busy and I know the children (and parents) had a great time. The next FOT meeting takes place next Thursday (16th November) at 7.30pm at the 'Snow Centre' and I know the FOT team would love to see you there. Come along and see how you can support your child's school...
It's not long until the next Tudor Owls Cake Sale:
| | |
| --- | --- |
| | Tudor Owls- Friday (17th November) is cake day. This time it will be the turn of the children in Year 1 to provide biscuits and Y6 to provide cakes. Tudor Owls charge 20p for each cake or for two biscuits. PLEASE DO NOT SEND IN CAKES/ BISCUITS THAT CONTAIN NUTS- THANKS FOR YOUR SUPPORT! |
To conclude, if you not had a look at the website recently I would encourage you to pay it a visit. As well as some positive feedback about our recent 'mini inspection' from county advisors, I must say that nearly every 'prospective parent' that has been looking around our school recently has commented on how good it is- in fact, many say it is the best around! I do hope that you take advantage of the effort that goes into this 'window into Tudor'!
Mr Rob Weightman/ Headteacher