The Tudor Owls are our school council.
Each class has two representatives, identified by special badges, who present their views to the committee.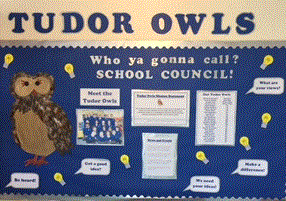 The Owls organise fundraising events, including the fortnightly cake sales, make decisions on purchases, raise issues relating to school rules and policies and report pupil concerns to staff meetings and to classes.
Parents are informed, through the newsletter, which classes/groups of children are being asked to contribute cakes or biscuits for the following Friday's cake sale. The cake sale is open to all children. Cakes cost 20p each and biscuits cost 20p for two. This is in addition to the daily fruit and vegetable scheme which is free to children up to Y2.
Usually, cake day is the week after the newsletter.
Tudor School's chosen charities
Our chosen charities this year, as voted by the children of Tudor School, are: Diabetes UK and Global's Make Some Noise.
With diabetes affecting people of all ages, including children, Diabetes UK was a firm choice of ours at Tudor School. Having friends here that are affected by diabetes, we wanted to do something for this charity that would really make a difference.Global's Make Some Noise is a charity supporting small but brilliant projects across the UK. The projects provide vital help for youngsters and their families living with illness, disability or lack of opportunity.
In addition to the money we are raising this year for these charities, we also donated the proceeds of one of our cake sales to 'Tourettes Action'. A huge £53.24 was sent to this charity who showed their gratitude with a thank you letter and certificate (displayed in our front entrance). Well done to everyone at Tudor School for their continued support.
Also, a big well done to our Tudor Owls who raised an additional £154 for our charities with a toy sale in November. All toys that were not sold were taken to the 'Children's Society' charity shop so that every toy that was brought in, went to a new owner.
Tudor Owls' Representatives for 2017/2018 are:
Hariet Haysman 1P, Ryan Matthews 1P, Elizabeth Luca 1O, Grace Abdalhmade 1O
James Vroome 2R, Tyler James 2Q, Olivia Martin 2Q
Stanley Wash 3S, Isla Jones 3S, Maddie Webster 3T, Joe Kocel Shave 3T
Joshua Rogers 4V, Courtney Knott 4V, Jack Dobson 4U, Zoe Hamer 4U
Kayden Phillips 5W, Grace Brandon 5W, Cloe Allan 5X, Jacob Stokes 5X
Talon Pearce 6Z, Millie Young 6Z, Balazs Soos 6Y, Chantelle Knott 6Y