The Tudor Owls are our school council.
Each class has two representatives, identified by special badges, who present their views to the committee.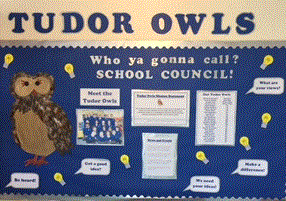 The Owls organise fundraising events, including the fortnightly cake sales, make decisions on purchases, raise issues relating to school rules and policies and report pupil concerns to staff meetings and to classes.
Parents are informed, through the newsletter, which classes/groups of children are being asked to contribute cakes or biscuits for the following Friday's cake sale.
The cake sale is open to all children. Cakes cost 20p each and biscuits cost 20p for two. This is in addition to the daily fruit and vegetable scheme which is free to children up to Y2.
Usually, cake day is the week after the newsletter.