The Tudor Owls are our school council.
Each class has two representatives, identified by special badges, who present their views to the committee.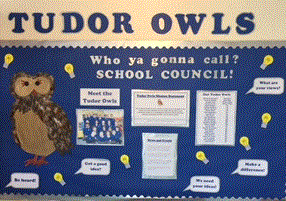 The Owls organise fundraising events, make decisions on purchases, raise issues relating to school rules and policies and report pupil concerns to staff meetings and to classes.
Tudor School's chosen charities
Our chosen charities for 2017/2018, as voted by the children of Tudor School, were: Diabetes UK and Global's Make Some Noise. With the help of fortnightly cake sales, a non-uniform day and a toy sale, we have managed to raise a grand total of £1,000 for these two charities AND made a donation to a further charity Zellweger UK of £200 - WOW! During 2018/2019 our chosen charity was the 'Dogs Trust' which was agreed through a fair voting system across all classes. Last year we raised £300 for the Centre in the Park by holding a number of second hand uniform sales, a hot chocolate sale and milk shake sale after school. This year, we are holding a non school uniform day to support Children in Need.
In addition to this money raised, we also donated the proceeds of one of our cake sales to 'Tourettes Action' - a huge £53.24 was sent to this charity who showed their gratitude with a thank you letter and certificate (displayed in our front entrance). Then an additional £154 was raised through a toy sale and all toys that were not sold were taken to the 'Children's Society' charity shop so that every toy that was brought in, went to a new owner.
Making a difference
Last year the children were involved in the healthy packed lunch scheme which included several visits from the school nurse. Tudor owls shared their knowledge with class friends and parents on what a healthy packed lunch should look like. We also asked for more litter bins on the playground to ensure there was no excuse for our school grounds to be tidy.
We are also part of the Woodfield School community initiative which involves children from multiple school councils coming together to discuss what amenities children have in their local area. It also allows both schools to have a lovely working relationship and for children to celebrate each others differences.
Another project that was started last year was one where the children wanted the profile of 'friendship' to take a real priority. We discussed the benefits of a friendship bench on our school playground, where children could sit if they were in need of some support. Tudor Owls distributed templates to all children in which a friendship bench 'plaque' could be designed. Due to school closure last year, this project is ongoing and we look forward to a new bench being purchased and the newly designed plaque added. Watch this space!
Tudor Owls' Representatives for 2020/2021 are: